Welcome to
Super Chef Oils & Fats Limited.
We are proud to serve generations of customers in Africa,
who have made us Malaysia's Purest, Malaysia's Best vegetable cooking oil suppliers.
Super Chef ®
Malaysia's Premium Quality Vegetable Cooking Oil
Looking for Vegetable Cooking Oil from Malaysia? Super Chef® Vegetable Cooking Oil is a premium quality vegetable cooking oil from Malaysia. The premium quality vegetable cooking oil is refined twice to remove all impurities. The pure Super Olein is then packed in Super Chef® packaging, true to its quality and promise; to be exported to our loyal customers in 16 different African countries.
---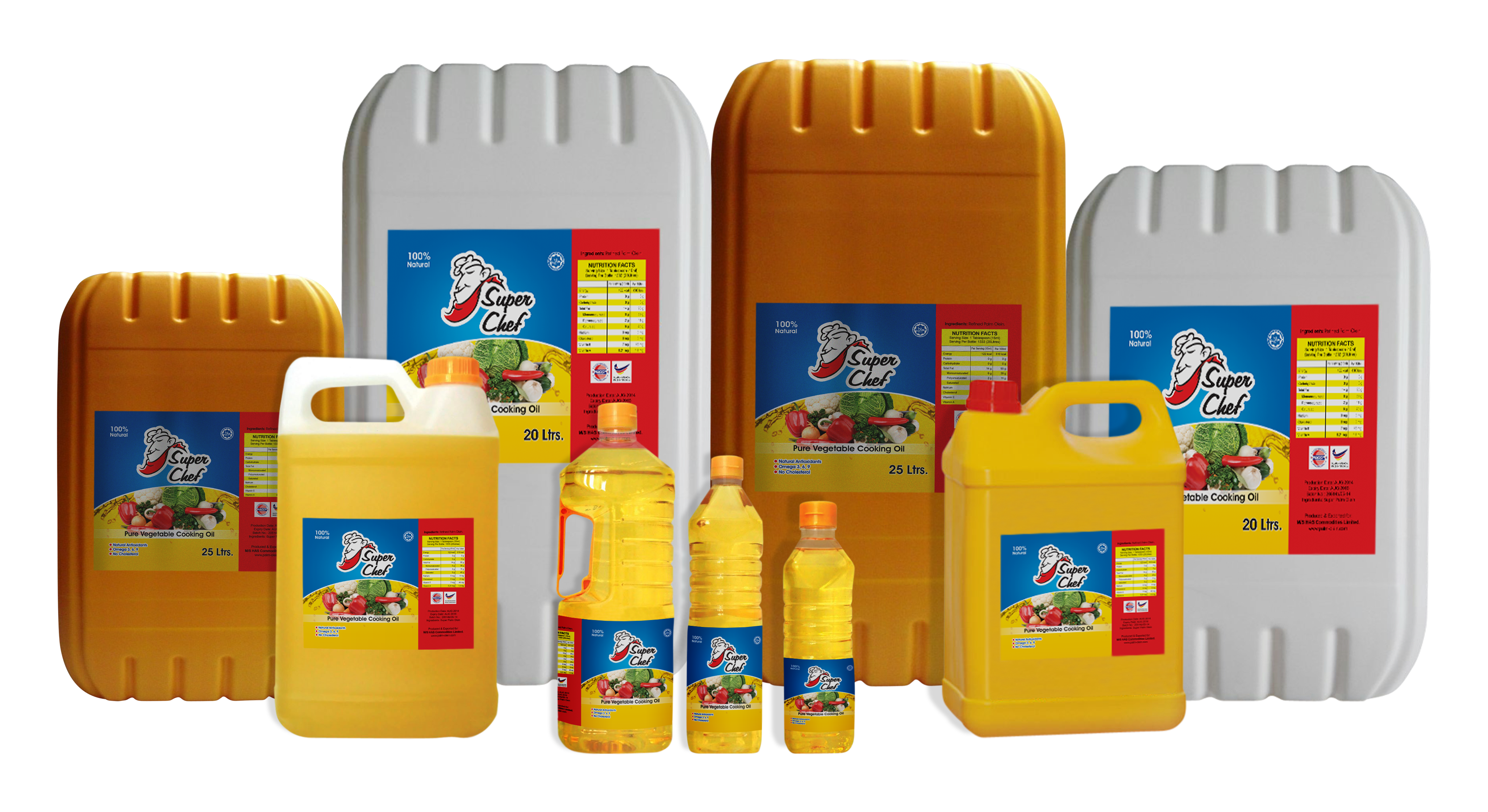 Why Choose Super Chef® Cooking Oil?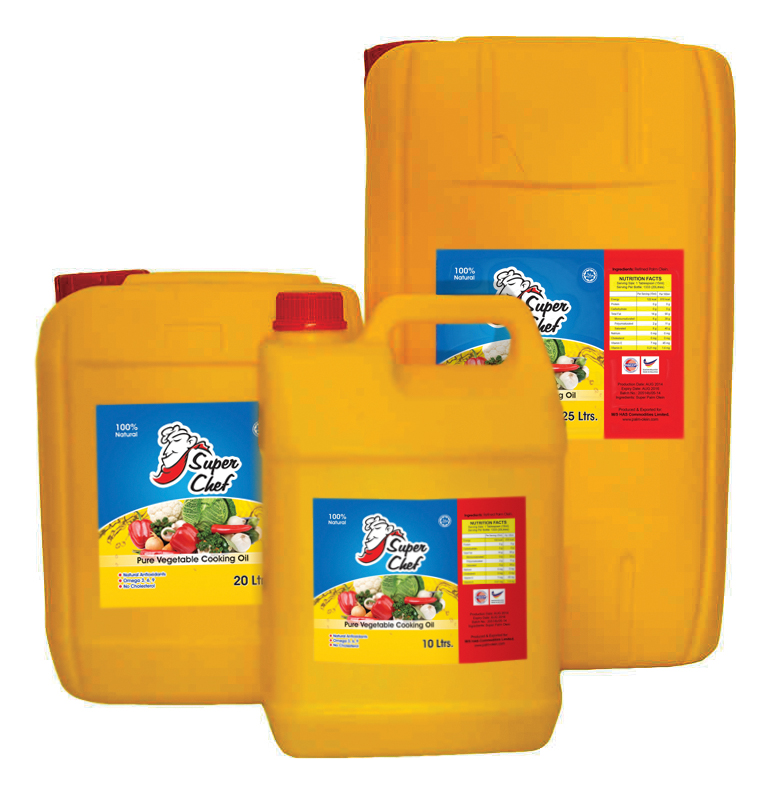 Malaysia's Premium Quality Frying Vegetable Oil
Best Prices Always!
Third-party inspection & certificate for guaranteed premium quality by Intertek Malaysia!
Cholestrol Free
Extended Frying Life
Stays Liquid for Longer
Tasteless & Odourless
Contains Natural Antioxidants
No Foaming or Gummy Residue
Zero Trans Fats
Rich in Vitamin E & Beta Carotene
Iodine Value: Min. 56 – 62 Max.
Deep Orange Red Colour
Malaysia Cooking Oil Prices

Prices valid up to

30 March, 2017

COB Malaysia Time.
| Destination Port: | 10 Liters | 20 Liters | 25 Liters |
| --- | --- | --- | --- |
| Abidjan, Ivory Coast | $8.89 | $17.05 | $20.96 |
| Banjul, Gambia | $9.15 | $17.55 | $21.56 |
| Bissau, Guinea-Bissau | $9.74 | $18.66 | $22.91 |
| Conakry, Guinea | $9.24 | $17.7 | $21.75 |
| Cotonou, Benin | $7.41 | $26.68 | $32.68 |
| Dakar, Senegal | $4.95 | $17.55 | $21.56 |
| Dar es Salaam, Tanzania | $8.55 | $16.4 | $20.17 |
| Djibouti, Djibouti | $8.81 | $16.9 | $20.77 |
| Douala, Cameroon | $9.2 | $17.62 | $21.66 |
| Freetown, Sierra Leone | $9.15 | $17.55 | $21.56 |
| Lome, Togo | $8.89 | $17.05 | $20.96 |
| Luanda, Angola | $9.01 | $17.28 | $21.24 |
| Mombasa, Kenya | $8.55 | $16.4 | $20.17 |
| Nouakchott, Mauritania | $9.15 | $17.55 | $21.56 |
| Toamasina, Madagascar | $8.67 | $16.63 | $20.45 |
| Tema, Ghana | $8.91 | $17.09 | $21.01 |
Price mentioned above in USD/unit size; basis CFR Discharge Port.
Minimum Order: 5 x 20′ FCLS.
Payment Terms: 30% Advance + 70% Balance Payable upon submission of documents by email.
Delivery time is within 10 working days from receipt of advance payment.
Third-party Inspection by InterTek Malaysia on seller's account.
Shipped by SAF Marine/Maersk Shipping Line.
Simple Procedure for Ordering:
All orders are sold based on CNF Terms.
Minimum of 30% advance deposit of the total invoice value is required upon contract confirmation for the shipment to be processed.
All banking & transaction fees outside Malaysia must be paid fully from the Buyer/Importer's side.
Export Pre-inspection shipment inspection by the designated surveyor (InterTek, SGS) will take place once the shipment is ready for export.
Once the booking has been confirmed with the shipping carrier, our customer support department will supply a SO (Shipping Order, BL draft) to the customer. The customer is responsible to inform any change of consignee at this point of the stage.
Stuffing/Loading of containers will be done under supervision of the surveyor company (InterTek, SGS)
Once shipment/vessel has departed, Original BL Scan and all shipment documents will be submitted by email within 2-3 business days after the Vessel Departure date.
The final balance of the total CNF order/invoice value must be paid within 1 week time after the Vessel Departure date.
Once final balance is confirmed at our account, all necessary documentation for the import process will be supplied via DHL to the appointed address given from the buyer. The DHL tracking Number will be supplied when dispatched.
The DHL will include:
Original Invoice
Original Packing List
Certificate of Origin
Certificate of Quality, Quantity & Weight – issued by third-party surveyor (SGS, InterTek etc).
Certified Packing List – issued by third-party surveyor (SGS, InterTek etc).
If the Customer shall fail to pay the balance in full after 14 days after the Vessel Departure Date from Malaysia, our company will have the full rights to forfeit the original deposit and to have the shipment sold to a different customer to ensure the full collection for supplier's security.
Once the DHL containing Original Documents is received, you are ready to clear the shipment at the port.
Malaysia Vegetable Oil Grades
RBD Palm Olein CP6
Known as Double Fractionated Palm Olein, or Super Olein is a softer type of olein obtained by fractionation of the standard olein, in order to achieve the maximum possible fluidity. RBD Palm Olein CP6 is used for bottling, as it remains fully liquid in tropical climates and also in temperate climates.
---
RBD Palm Olein CP8
Super Chef African Gold™ is a double fractionated, extremely stable and cost effective deep-frying oil that lasts longer in your fryer, improving end-product yields by 30 – 50%. Made from the finest quality Palm Olein, it contains healthy levels of vitamin E and beta-carotene and is trans fat and cholesterol free.
---
RBD Palm Olein CP10
Super Chef African Gold™ cooking oil is "Saturate Protected" which helps reduce oil absorption. Its tasteless and odourless formula means that you taste the food and not the oil.